Mike Frost RIP
Sadly, on 28th November 2016 Ivor was informed by Gwyneth that Mike Frost passed away on Tuesday 22 November 2016. Mike had endured ill health for many years but despite progressively being confined to a wheel chair Mike was always very upbeat. He had been in a care home for some time but was in hospital when he died.
Mike and Gwyneth were keen supporters of the 83rd Entry and they came to every Reunion until Mike's deteriorating health prevented them from doing so. From the early days of the RAFHAA Mike used to ride his motorbike to the AGM's and would meet up with Ivor for the day. Those of us who were in 3 Wing will remember when we arrived at Halton we were in civilian dress. However, one person was in RAF uniform sporting a chequered hat band and this was Mike who was transferring from Boy Entrant to Apprentice. He was most proud when eventually, he became a crew chief on Nimrods.
Our members were invited by Gwyneth to attend the funeral service at Cambridge Crematorium at 14.15hrs on Wednesday 7th December 2016 because she would just love to see some 83rd friends to say goodbye to Mike and then after the service, attend his Wake at the local Royal British Legion.
As Gwyneth wished, the funeral was attended by several 83rd family members. Paying their respects were: John Walker, Maurice Raven and his son, Des and Heather Winder, Dave and Jean Smith, Brian and Maureen Fairclough.
Although we had planned to attend, sadly, Janet and I had to cancel our trip to Cambridge on the Tuesday evening, when I returned home from Aberdeen. Neither of us was fit to drive any distance due to both of us nursing minor injuries; Janet having been struck on her shoulder by Emma's horse box tailgate on Monday and me having taken a nasty tumble as I was leaving Terminal 5 at Heathrow. As I write this missive I hasten to report that we have both fully recovered.
Ivor and Margaret were also unable to attend because Ivor was at home in post-op recovery, having been released from hospital on the Monday morning.
However, Ivor spoke with Gwyneth the day after the funeral and he reports that Gwyneth was very pleased to see all the members of the 83rd Family that had been with her as Mike made his last journey. Gwyneth really appreciated the effort that was made and Ivor has also sent his personal thanks to all. Gwyneth said to Ivor that she was very pleased with the service because it was a celebration of Mike's life. In their conversation Gwyneth fondly recalled that Mal & Ann Wood (recently relocated from Norwich to Scone in Scotland) occasionally visited them in their home and would, with the help of Gwyneth and the carer, manage to take Mike out for fish and chips. These trips were always much enjoyed by Mike and Gwyneth. Gwyneth went on to say that she has fond memories of meeting up with the 83rd Family at reunions and other events. In particular the very enjoyable 12-day holiday she and Mike spent with Brian and Maureen Fairclough at their home in Israel; when Brian was the Rolls Royce representative over there.
To close, Gwyneth has asked Ivor, on her behalf, to wish everyone a "A Happy Christmas" and the very best for 2017.
Ray Webb RIP
Following their meeting at the Triennial this year, Ivor has received a message from John Hall regarding Ray Webb (3 Wing, Engines). John sent the following: Ray left the RAF at the end of his 12 year engagement. Whilst serving in Germany he met and married a Dutch girl and settled down in Holland for the rest of his life. Ray passed away on the 27th of June 2007, following a short illness.
Colin Townsend RIP
Ivor was informed by the family that 681858 Colin Townsend (Airframe 2Wing) passed away on 6th March 2016

at

Basingstoke Hospital in Hampshire.

Colin transferred to Skill Trades whilst at Halton. He was in contact with Ivor and was keen to be part of the 83rd Entry, being on the mailing list so he could be aware of the Entry news and the website.

The funeral took place at 11 a.m. on 24 March at Basingstoke Crematorium. Address: Manor Farm, Stockbridge Road, North Waltham, Hants, RG25 2BA.

Funeral directors: Kent and Stevens, 93, High Street, Alton, Hants, GU34 1LG. No flowers. Donations to the RAF Benevolent Fund or the Salvation Army.

After the funeral the wake was held at the French Horn pub, Whitedown Lane, Alton, Hants, GU34 1RT.
Robert 'Flash' Cannon RIP
Ivor was informed by Janet Cannon that sadly her husband Robert Evan Cannon (1 Wing, Airframe) passed away on 21st October 2016. Unfortunately, no further information is available.
Iain Hush RIP ?
As you are probably aware Ivor is constantly trying to track down our 83rd members. Ivor notes that some time ago Mal Wood made contact with Iain Hush's sister and she had informed Mal that Iain was not interested in relating to the 83rd. However, Mal did get to find out that Iain was living in South Africa.

Recently, the following press notice has come to light

and the overall description seems fit Iain very well.

On this basis we are tentatively accepting that Iain has left on his last posting although obviously we will seek to properly validate this.
Johnny Morris RIP ?
We are given to believe that 681794 Johnny Morris who was in 3 Wing 2 Sqd passed away several years ago (early 80's). Unfortunately, we are unable to confirm the details.
The Last Post
This article was sent to us by Ken Butcher with the accompanying note.
Having had our ANZAC Day commemorations and memorials, this Lady felt inspired to pay her own tribute to our brave ANZAC's, including both of her Great Grandfather's. Sadly, neither of them made it home. To those who served then and to those who serve now, thank you.
Here is her rendition of The Last Post. https://www.youtube.com/embed/NqHx1CDRQkc?rel=0 .
I have never heard The Last Post played on a solo Violin and it is really good - NO it's amazing.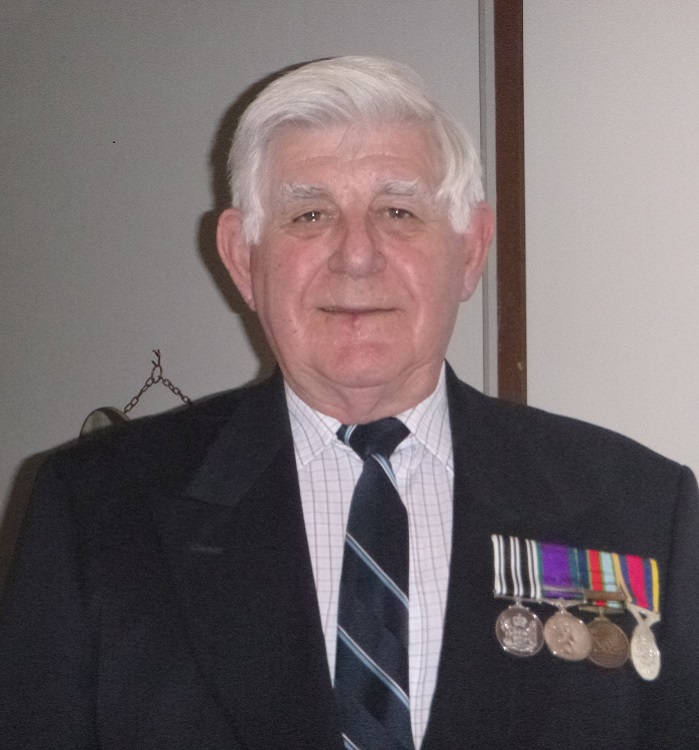 Ken ready for the ANZAC Parade in 2015
RAFHAA Initiative to mark Lord Trenchard's Legacy (TEAL 2020)
A new RAFHAA website tells the 73 year Apprentice Story in a variety of media forms and can be accessed via http://www.rafapprentices.co.uk/
Why This Project?
Trenchard's Engineering Apprentice Legacy 2020 (TEAL 2020) was set up to commemorate the centenary of the inception of one of the most foresighted and innovative schemes in British military history. A group of dedicated retired service personnel and proud ex-Brats came together to ensure that the story was told of how thousands of boys were trained to levels of excellence which led to them to make huge contributions to the Royal Air Force, to science, and to Great Britain.
Through this website, exhibitions and the media, the story of the boys who were propelled to excellence is relived by those who are proud to call themselves 'Trenchard's Brats'
The Closure of RAF Halton
10th December 2016 - A MESSAGE FROM DUNCAN GRANT- YOUR RAFHAAA CHAIRMAN
On the 9th December we were formally advised that RAF Halton will close by 2022. The run down is planned to occur in three phases before disposal of the site as an RAF Station.
a. Phase 1 - Airfield disposal.
b. Phase 2 - Relocation of School of Recruit Training and Airmans' Command School to RAF College Cranwell.
c. Phase 3 - Relocation / rationalisation of Lodger Units.
As the plans evolve over the coming months your Council will keep you informed of the impact for the Association.
Contact:: Duncan Grant Chairman RAF HAA / Director TEAL 2020 Ltd Tel: 07803 908529 www.oldhaltonians.co.uk www.rafapprentices.co.uk
Immediately after this announcement was received then the inevitable speculation about our Halton Apprenticeship legacy began. And quite rightly so, because just starting to make a list of the valuable and historic Apprentices assets that have to be fully considered in the closure planning will include:
a. St George's Church complete with stained glass windows, flags, lectern, kneelers, etc. Also, there are family tree plantings and members ashes scattered all around the Church environs.
b. The Tribute, Kermode Hall and some of the old 'listed' classrooms.
c. The Trenchard / Apprentices Museum along with all the archives and exhibits.
No. 1 School of Technical Training was moved to RAF Cosford a few years ago. From 2017 there are just 5 short years to go before our 'seat of learning' at RAF Halton simply disappears off the map! Watch this space for periodic updates.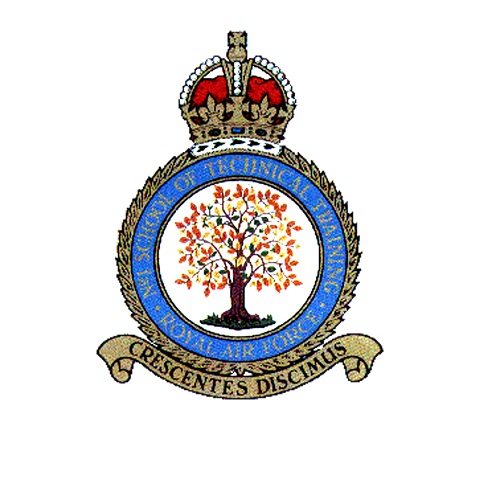 Entry Lunches - Southern Branch
The more observant amongst our readers will have noticed previous mentions of a group of us based in the south who periodically (about quarterly) meet up to enjoy good company and a nice lunch at a local hostelry.
It all started off a few years ago with our group enjoying a bracing day by the sea in Worthing and having a simple but delicious plate of quality fish and chips finished off with an ice cream. To burn off the calories, there followed a casual stroll along the promenade with some time spent in the penny arcade on the Pier playing the slot machines. Back at Brian and Maureen's apartment after the long return walk it was time for tea and cakes before we said our good bye's and travelled back home.
Those involved to date have been Brian and Maureen Fairclough, Ivor and Margaret John, Pam and Tony Miles and Janet and John Burt.
We like to share the travel so sometimes we try to meet halfway. This year we have enjoyed two lunches at 'The Owl' in Kingsfold (one on 28th April and the other on 26th July) and the last one in Worthing in December.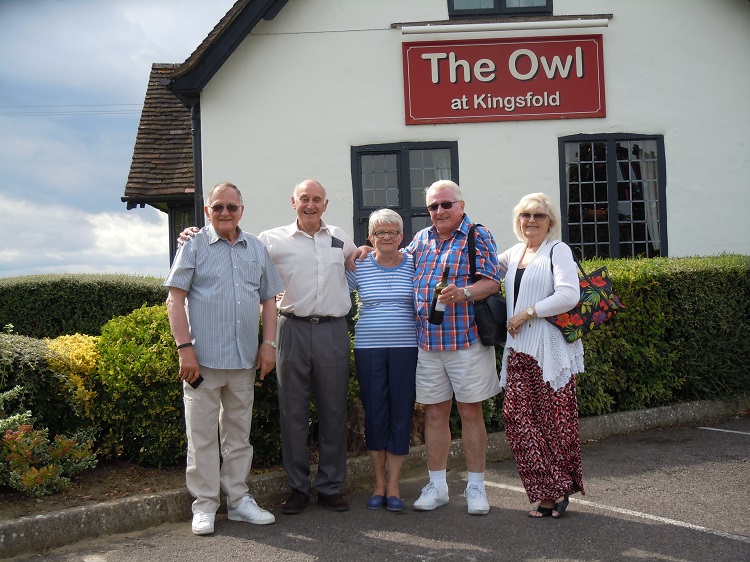 L to R: John Burt, Ivor and Margaret John, Brian and Maureen Fairclough (Janet taking picture)
L to R: Janet Burt, Ivor and Margaret John, Brian and Maureen Fairclough (John taking picture)
Our pre-Christmas Lunch was held at the Swallow's Return in Worthing on 9th December. This is another of our favoured hostelries. Sadly, Ivor and Margaret were unable to join us on this occasion because Ivor was unable to travel after his recent op.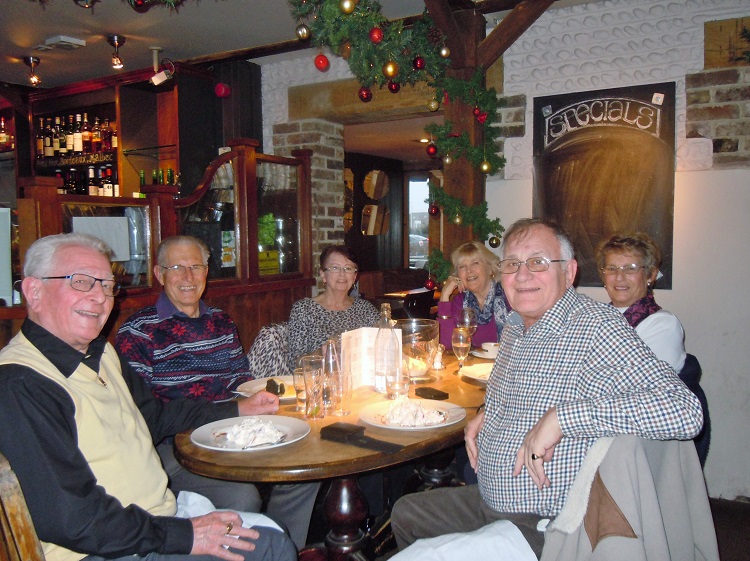 L to R: Brian Fairclough, Tony Miles, Janet Burt, Maureen Fairclough, John Burt and Pam Miles (member of staff taking picture)
We hope to continue with our periodic lunches in 2017 as soon as Brian and Maureen have returned from SA. Also, it should be noted that these lunches are not exclusive, so long as you are a member of the 83rd Entry. Janet seems to be at the centre of organising these get togethers' so contact her if you would like to join us.
Tea for Two Courtesy of the 83rd
Janet won an afternoon Tea for Two prize at the 2015 Entry Reunion having been last person standing for 'heads and tails' at the Friday evening Quiz Night.
After a bit of research Janet selected Oakley Hall near Basingstoke which is not too far from Guildford and made a booking for the afternoon of 25th May.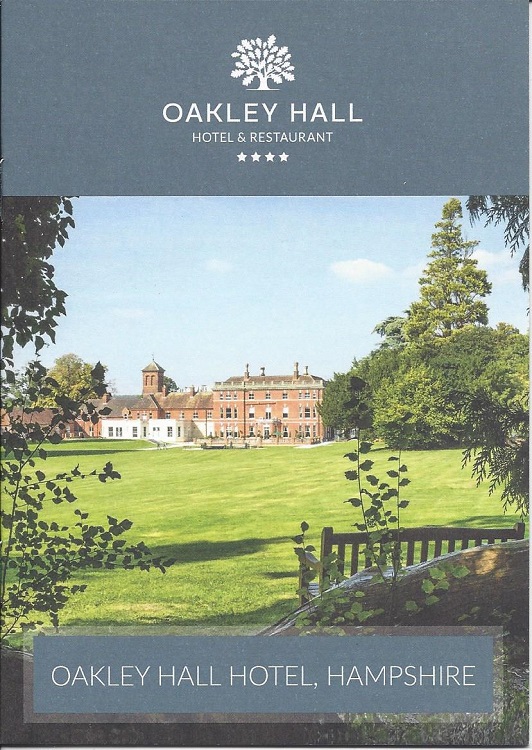 To be honest we were unsure what to expect. However, we have to tell you it was a very pleasant experience and thoroughly enjoyed by both of us. Oakley Hall is a very imposing building set in magnificent grounds. Inside, the building is sumptuous and well appointed as you would expect for a major conference and wedding venue, etc..
See above and below. The selections of wraps, sandwiches, scones and cakes was sensational and all washed down with your choice of proper blended teas (not a tea bag in sight). We couldn't eat it all at one sitting so our personal waiter João (nice Portuguese chap) put the remaining food into cartons so we could take them home to eat later!!
A thoroughly pleasant and good experience and one to be recommended when spending a relaxing afternoon out.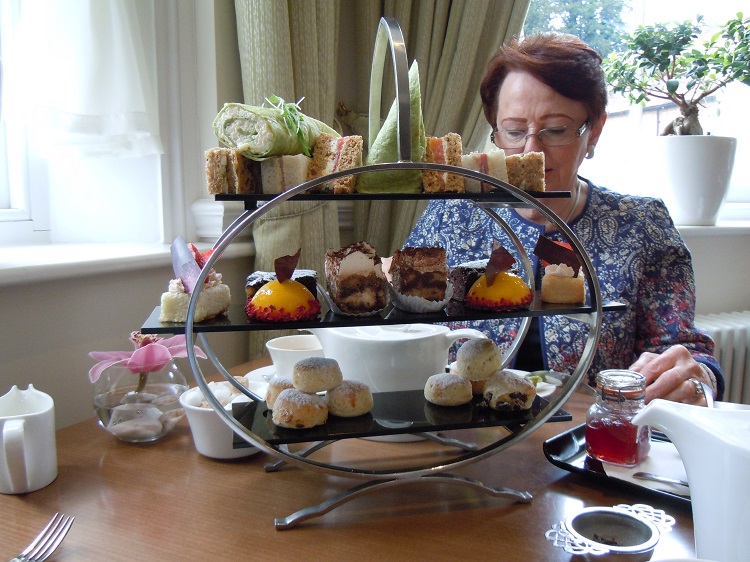 Ivor's Me109 Article
Ivor reports that he took over being i/c Visiting Aircraft Flight at RAF Northolt in July 1977.
After about three days, one of the shift Sergeants came to see me in my office. This was Sgt Mason and he had a project he wished me to see so we set off to the old hangers on the North side of the airfield. He then showed me the project, which was in pieces. It was an Me109. His intention was to rebuild this aircraft back to flying condition and he wanted my support to let the airman on shift, if work permitted, to be released to work on the project. Also, for him to swap shifts if needed so when opportunities arose, he could board RAF Northolt aircraft going to various places in Europe so he could pick up vital spare parts for the project. Spain, Sweden, Germany, Switzerland were some of the places I can recall. Naturally 32 Sqd aircrew were in on the project and made the trips possible, basically using the Andover aircraft because Mason could be hidden from the VIPs onboard.
I left RAF Northolt before the project was finished but in August 2016 I thought I would see what happened, if anything. I am pleased to say the project moved to RAF Benson in 1983 and during 1989 it did a flying display at RAF Benson. One pilot that flew the aircraft at that time was Gp Capt. Reg Hallan. Reg was F/Sgt AA (78th Entry) in 3 Wing. He won a Cadetship to Cranwell and won the Sword of Honour on Graduating. Eventually the aircraft had an accident and was given to the RAF Museum for display.
So in September 2016 during our Entry Reunion at Henton, in company with Brian Fairclough and John Burt I paid a visit to the RAF Museum and tried to locate the airframe. We eventually found it hidden away in part of a darkened hangar which was roped off from the public. I managed to intercept a couple of Museum engineers who were passing and pleaded my case to see the aircraft. They got permission for us to enter and assisted to help reunite me with the aircraft and have John take the picture below. Ivor John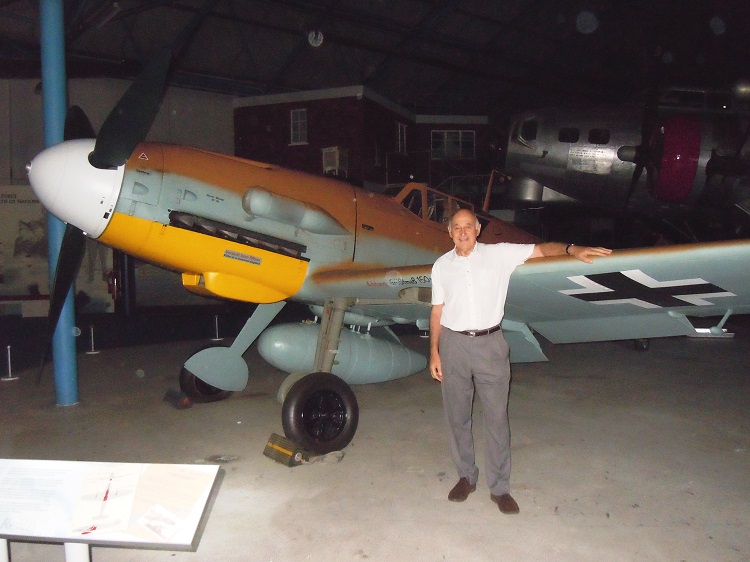 Ivor reunited with Messerschmitt Me Bf109G-2/Trop W/NR 10639 at the RAF Museum
Pat O'Shea's Apprentice Booklet - A little piece of history
It is quite remarkable that the following historical document has actually survived these past 70 years. Brought over from the US by Pat O'Shea when he came to the Entry Reunion / Triennial in September, clearly Pat had the pamphlet stashed safely away for many years. Personally, I can only vaguely remember its existence but I guess we all would have received a copy when we joined up.
Anyway, Pat kindly loaned me his original so that I could scan the document and post it on our website for members to see. There are lots of very interesting things inside to do with required educational standards, pay rates, fitness, promotions, career opportunities, etc. Simply click on the document, open it up in Adobe and enjoy!!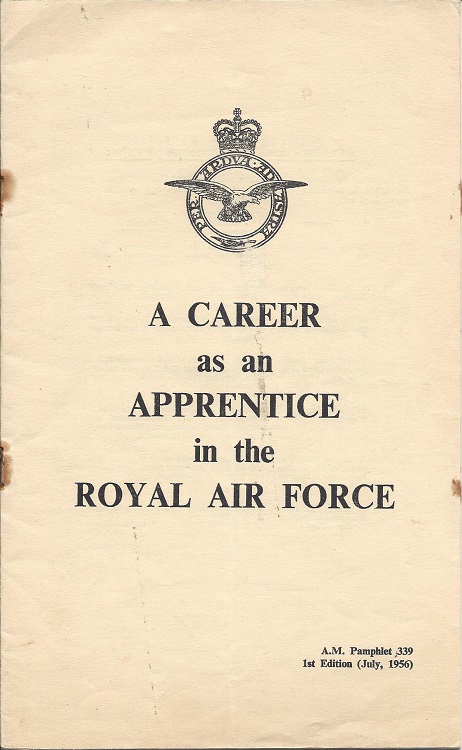 Having carefully scanned the document and preserved the original condition I will be returning it to Pat exactly in the pristine condition he gave it to me.
New Members Found
In November 2015 Ivor received an email from 681557 Colin Lines (2 Wing, Block 7, Eng) who joined with the 82nd but transferred to the 83rd and graduated as an Engine Fitter. Colin and his wife Christine have lived in South Africa for the past 17 years and they have passed their contact details to Ivor.
Ivor reported that at the Halton Triennial, 681825 John Hall (3 Wing, 3 Sqd, Inst [Nav]) came up to him and reintroduced himself to Ivor after all these years. John now lives in Javea in Spain and has passed his contact details to Ivor. After meeting up at the Triennial, it was John that sent Ivor a message regarding the demise of Ray Webb (3 Wing, Eng) that is reported above.
Ivor continues to search out our members and he reports that one that annoyed him was 681937 Derek Gordon Bye (1 Wing, Inst [Gen]). Ivor thought he had found him but because Derek was ex-directory he couldn't get an address or telephone number to establish contact. However, looking at a map, Ivor made the assumption that if he was correct then Derek Bye lived about an 'inch away' from Mal Wood in Norwich. So, recently Ivor asked Mal if he could look into this and do a recce for him. Pleased to say that Mal came up trumps.
From Singapore to Halton by Dave Taylor
At the Reunion, Dave Taylor promised to write an article for the website to give insight to the young lads that came to RAF Halton from Singapore to commence their Aircraft Apprenticeships with the 83rd Entry. Dave comments that the pictures are black and white, there are no coloured versions!
There was four of us, Mike Powell, Ian King, Mike Cusack and myself Dave Taylor, who left our (Service) parents in Singapore on the evening of 26th April 1956 to fly home to the UK to join the RAF Apprentices at RAF Halton. I was the eldest of the four of us at the ripe old age of 16 years and 1 month!
We left Paya Lebar airport in a Hermes aircraft which was basically the civilian version of the Hastings. Or more distinctive a Hastings with a nose-wheel. We stopped at Bombay (as it was then) Calcutta and Karachi (overnight), then Bahrain and Brindisi (overnight) then on to Stanstead in the UK.
Some interesting events occurred during the journey such as mistaking the chilli sauce for tomato sauce over breakfast in Bombay, Yuk! No way to eat bacon and egg. Also arriving at the hotel in Karachi, Mike Cusack threw himself down on his bed which immediately collapsed and he ended up a big heap on the deck, we laughed over that! but then had to try and get another bed, which was easier said than done!
The photos above and below were taken at Bahrain Airport shared at that time with RAF Muhurraq
Top photo from the left: Mike Powell, Dave Taylor, Mike Cusack and Ian King
Bottom photo from the left: Mike Powell, Ian King, Dave Taylor and Mike Cusack. Dave believes that only the steps belonged to BOAC and the aircraft belonged to Imperial Airways….it was 60 years ago!....and has since lost the "quiff"!
I enjoyed the flight over, not just because it was the first time I had flown but also on board was an "ENSA" group whom we befriended and the comedian with them, who incidentally, took the attached photo's and sent them to me later, told us jokes for the whole of the three days travel. To my shame, I have forgotten his name, but I do remember that he had an MBE. I have tried searching "the net" for him but so far to no avail. The star of the show had been Tessie O'Shea, but she did not travel home on our aircraft.
We arrived at Stansted on the afternoon of 29th April to the view of a crashed "York" by the side of the runway. It had crashed on take-off going to Singapore that morning. One person on board had been killed, so it was that our first task in the UK was to send a telegram to let our parents know that we had arrived safely. The crashed plane would have been in the news and we wanted to let them know that we were safe. From Stansted we had to make our way to Halton and I really can't remember what time we got there, I seem to think it was about 22.00 hrs. I remember there was transport to take us from Wendover station to the camp. We were given bedding and a room to share.
The following day we were interviewed by our prospective Engineering Officers (dependent on the trade we were aiming for) and I had selected to be an Instrument Fitter. When I was interviewed I was told that there was no place for me and perhaps I would like to be an Engine Fitter. I said that I had come to be an Instrument Fitter and if I couldn't, then they would have to get me a seat back to Singapore …..with that, a place opened up!
So it was that the next three years were spent in No. 2 Wing No.3 Squadron. I suppose I was just one of thousands of apprentices that went through Halton without any real claim to fame, I was presented with the School Colours for swimming and water polo, but if there was a claim to fame it was the fact that I was promoted to Leading Apprentice (one stripe) in the second to last term. I was then promoted from "snag" to Sergeant Apprentice, missing out the rank of Corporal Apprentice, and I couldn't recall anyone else in our three years doing that! (See Note below) .
We passed out of Halton on the 25th March 1959 which happened to be my 19th Birthday. So it was that a posting to RAF Marham as a Junior Technician (Navigational Instruments) ensued.
Note! This year (2016) talking to Dave (Bill) Green at the reunion, he apparently did the same and up till then had thought he was the only one….. it's good to talk!
Update from Fred Finlay - A positive report on a bad situation
The last time Fred Finlay spoke on the telephone with Ivor he promised an update to let Ivor know what transpired with his sight problems, having been hit with AMD (Age-related macular degeneration).
Fred sent his note to Ivor just before the Reunion weekend and he reports that he has now been accepted by Blind Veterans UK, formally St. Dunstans, for support and assistance, and (at the time of writing this missive) was just back home from a week of re-hab at their facility at Brighton.
Fred continues - the care and attention I received there was nothing short of fantastic. They treated both Pam and I with so much care and attention. I was one among so many ex-servicemen with sight problems, and everyone was treated with the same affection. We were picked up from our home in Andover and driven to Brighton, given a hotel standard suite and made to feel welcome by the staff there, some of whom are themselves are sight impaired. I was one of a group of 8, excluding partners, with sight problems of varying degrees that were on their first visit.
We soon became adjusted to each other and our problems and formed a good group of friends. We went through a programme of talks and training, each with his own re-hab officer who was also sight impaired and who showed how to make the most of our problems. I had some IT training and other training on things I thought I would never be interested in. I have been loaned some equipment to enable me to read a book again and several other gadgets that will make my daily life more comfortable. Most importantly, I have been given back a sense of confidence which I had lost this time last year.
Regards to all at the reunion and hopefully, I will be there next year.
Note: Age-related macular degeneration (AMD) usually affects people over 60, but can happen earlier. It is the most common cause of sight loss in the developed world. In the UK over 600,000 people are affected.
Tony Pickering - Battle of Britain Ace by John Cheesbrough
The following is an extract from the 74 Squadron Association website:-
"I always wanted to be a pilot and joined as a Volunteer Reservist as soon as I was 18 in 1938. I was warned that the RAF only took on pilots with three important qualifications:
[i] Your father had to have been in World War One.
[ii] You had to have been educated at a Grammar school.
[iii] You had to play rugby.
"I was OK for the first two, but lied about the third! Fortunately, no-one questioned me further and I was accepted.
'You will be a LAC tonight, but a Sergeant in the morning,' the recruiting Sergeant said – at just 18 years of age!
I had left school at 17 when they realised that I was not clever enough to get to university and started an apprenticeship with British Thompson Houston (BTH) where Sir Frank Whittle was developing the jet engine. The pay was 12 shillings a week and my father paid the £1 a week for my digs. I was quite fortunate and was called up almost immediately – a lot of the others did not get called up for 3 or 4 months although they were still paid as a Sergeant in the meantime. I flew about two days a week. The Headquarters of the County VR were actually a stone's throw from where we are tonight [the Royal Court Hotel] and we flew Tiger Moths from nearby Keresley Grove airfield and I also spent some time at Redhill. I finished flying training in 1940 and was posted to No 32 Squadron at Biggin Hill on Hurricanes.
I remember it very clearly although I have trouble remembering what I did last week! When I arrived I distinctly remember Squadron Leader Worrell asking me how many hours I had on Hurricanes? 'Never even seen one', I replied having only flown Miles Masters. 'Well, go and do three circuits and bumps this afternoon as you are on Ops tomorrow morning.' I took off at 6am as No 2 to a Flight Lieutenant who had been a Sergeant in France just a few weeks before. 'Sit directly behind me and stay there,' he said. 'But keep your master firing button in the OFF position!'
Tony Pickering went on to fly with 501 Squadron, 601 and 131. He was shot down once by return fire from a bomber he was attacking, but survived and went on to complete the war as a Squadron Leader in charge of a flying training school in North Africa (El Ballah, Egypt).
Tony returned home to Rugby to finish his apprenticeship at BTH, later renamed GEC, and remained there as a steam turbine designer until his retirement in 1985.
For many years now he has been one of the remaining Few carrying the Book of Remembrance at their September Westminster Abbey service. More recently, the much-loved granddad and great-granddad was a keen bell ringer at St John The Baptist Church until well into his 80s.
Tony died on 24th March 2016; having lived to the grand age of 95. We are burying him tomorrow (8th April) with full RAF military honours at St John The Baptist Church in Hillmorton, near Rugby. We are proud to have known Tony for a long time; Angela has been asked to give the reading at the service; and if you're in the area around 3.00 pm. you may wonder why a Spitfire is doing slow rolls overhead.
John Cheesbrough
RAF Tradesman Ranks - Form and Function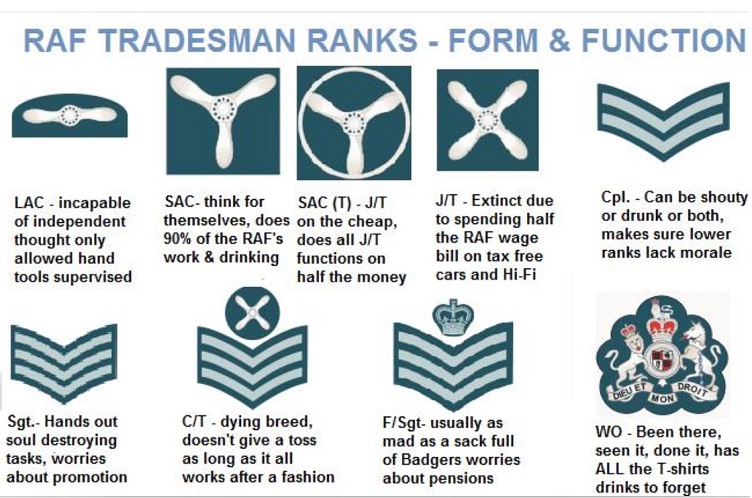 Planning Progress for 2016 Reunion at Henton
On the back of another very successful entry reunion in 2015 we have started planning for our next reunion that will be held at The Peacock Inn in Henton to coincide with the RAFHAAA Triennial at RAF Halton on Saturday 24th September 2016.
This reunion is a bit special because it will be 60 years since we all joined up in May 1956. For that reason, we hope to commemorate the occasion in an appropriate manner. Suggestions welcomed.
Our first recce of the venue took place on 18th November 2015 when Ivor, Margaret, Robert (their son and driver for the trip), Janet and me visited The Peacock for lunch and a look around to see the changes implemented by Martin since our last visit. On arrival we were warmly greeted by Martin's great team of people and straightaway noticed that the bar and restaurant areas still have that nice comfortable and warm ambience we know so well.
As it happened Martin was away in Devon having a well earned rest and had left his lovely and highly efficient niece Sarah in charge. It has to be said that Sarah, who is well qualified in hotel management and events, is the perfect choice to help Martin run the Peacock because she has being doing that for him at another hotel.
After an excellent lunch (for me the Ham, Egg and Chips was outstanding!) we got down to business with Ivor spelling out his requirements for our reunion and Sarah giving him quick responses that pretty much satisfied all the items on Ivor's 'shopping list'; all of which would be confirmed in writing to Ivor in a couple of days (Note: Sarah must have sent Ivor the email that evening because on the following day Ivor sent out his email to members with all the details in it).
Our tour of the hotel with Sarah showed us that Martin has been very busy having a lot of work done to extend and upgrade the accommodation, in particular the new apartments. The Peacock can now accommodate more guests and not unsurprisingly, the rooms and facilities are to a high standard. There are also plenty of parking spaces in the hotel grounds.
The recce team left for the trip home feeling in good spirits about returning to The Peacock in September 2016. So please keep an eye open for Ivor's 'e' mails about the 2016 Reunion arrangements (expect the next one in January 2016) and respond to him as soon as practicable, when he asks for bookings, etc.
IVOR's OUTLINE PLANNING SCHEDULE
January to May 2016 - Hotel bookings commence. A block of reserved rooms have been 'pencilled in' to accommodate the number of members that usually attend our reunions. As usual, members can book and stay for as many nights as they wish.
Hotel Room Rates: £90.00 per night. Twin and double bedrooms with en-suite and TV available. There is also a fully equipped disabled room available on the ground floor.
Apartment Rates: £120 per night . There are six self contained apartments in a building (The House) immediately adjacent to the hotel and these comprise a bedroom with en-suite, sitting area with TV and small kitchen area with cooker and fridge. One of these apartments has an adjoining second bedroom which could be used for a carer.
Reunion Dinner: £30 per person. 3 courses, with coffee, port and cheese.
June / July 2016 - Reunion Dinner Menu selection
August 2016 - Reunion Dinner Seating Plan
Ivor says, we have held Reunions every year since 1992 and the support is always great, just look at this website to see the various events. However time is running on and travel can be a problem for some members. So please try and attend this Reunion as we celebrate 60 years of kinship as a 83rd Entry Halton Brat.
John Burt