A Lunch at the Jolly Drover in Liss, Hampshire
Within easy reach of where we all live, on 4th November a group of us (The Fairclough's, John's, Miles's and Burt's) met for one of our periodic Entry Lunches at the Jolly Drover in Liss, near Petersfield, Hampshire. The venue was suggested by Pam and Tony Miles and for a group with well educated palates it was a thoroughly enjoyable culinary experience. The staff were great too - very friendly and most accommodating. Highly Recommended.
A place with a lot of character, a very interesting history and some intriguing architecture.
Checking out the 'Specials'
Fantastic menu - took a while to decide on which dishes to have.
A bit of irony here - Tony is a long standing Portsmouth FC supporter and he wanted his picture taken underneath the sign. Being a Saints supporter I had to swallow hard as I took the picture!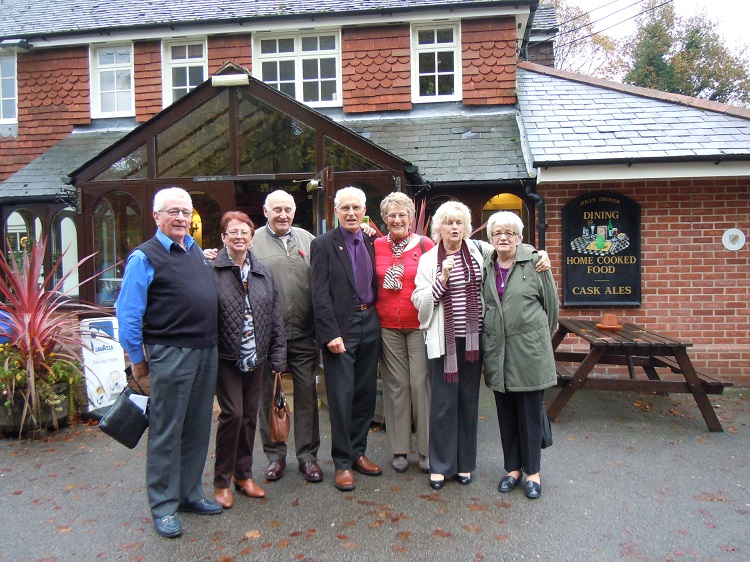 Well satisfied - L to R: Brian, Janet, Ivor, Tony, Pam, Maureen and Margaret.
Hugh Trenchard - The Policeman
By Ivor John
Over the years, I have been involved with The Metropolitan Police public forums and have visited New Scotland Yard several times. On my last visit I decided to have a photograph taken next to the portrait of Hugh Trenchard. He was Commissioner of the Metropolitan Police from October 1931 until November 1935.
Guess what? During his time with the Metropolitan Police they purchased part of the old RAF Hendon site to form it into a training college. It still exists today and all recruits start their basic training there. Very similar to his vision for RAF Halton. What a great man!
Churchill's 1965 State Funeral remembered
50 years on
Johnny Walker (aka Jock the Peep's) brought our attention to the following letter by Min Larkin that was printed in the Sunday Telegraph on 25th January 2015 regarding the 50th anniversary of the passing of Sir Winston Churchill and, his truly remarkable State Funeral. This prompted me to search out more articles and images, etc. to illustrate the key role played by RAF Halton Aircraft Apprentices on that incredibly moving day.
Image courtesy of Sunday Telegraph
A little more focused research reveals some more very interesting pieces of information that add further weight to this article; by highlighting facts that modern media coverage has overlooked.
Having graduated in March 1959, the 83rd Entry were scattered to the four winds by this time (I was at RAF Colerne) and although all of us would have been much moved by the Great Man's passing we didn't have a ringside seat on this great occasion; so I doubt that any of us knew much about the full and excellent contribution made to the State Funeral, by our RAF Halton Aircraft Apprentice successors.
A visit to the 102nd Entry website revealed some very interesting information about the State Funeral (they were Senior Entry at the time) and I pay tribute to Noel Jones their webmaster for publishing these records. Some of the following text and images are reproduced from the 102nd Entry website so hopefully, Noel will not be too alarmed that I have borrowed some of his articles to share with our members (we are Senior Entry of course).
Interestingly, the 104th Entry was also on parade but they do not appear to have a website to visit! 20 members of the 104th Entry formed the Cortege Escort because at the time, they were the RAF Halton 'Duty Guard of Honour'.
Image courtesy of 102nd Entry website
Image courtesy of 102nd Entry website
The 102nd Entry were at RAF Halton from 1962 - 1965 and their window in St. George's Church shows an image of an apprentice beside the gun carriage. Clearly they are very proud to have taken part in such a memorable event.
Perhaps the 102nd Entry may be best remembered (by some people) as being responsible for a prank that was reported in "The Sun" on Monday March 15th 1965. They put detergent in the Trafalgar Square fountains which created a satisfying fog of foam down London's West End.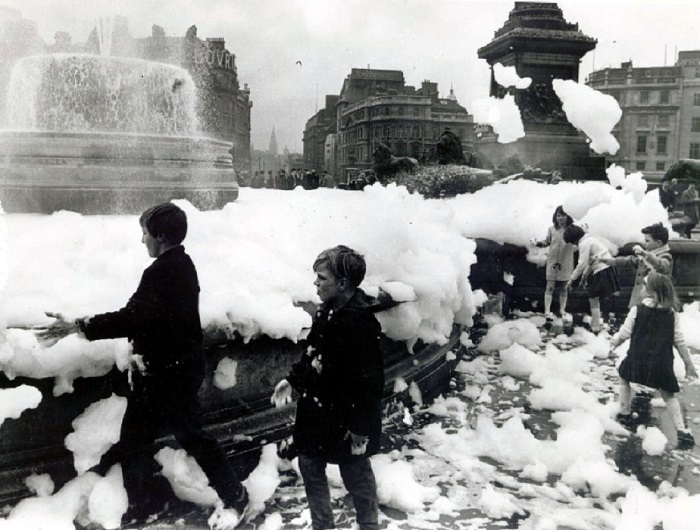 Image courtesy of The Sun
QUOTES:
Churchill's Funeral (in a letter home to Mum, from Noel) - RAF Halton Sun. 31.1.65
Dear Mum,
Thanks for your letter received Fri. The funeral went off very well. In spite of the very bitter cold not one Apprentice fainted either in the route-lining flights, the twenty coffin escort, or the 300 in the procession detachment. I was slow-marching in the procession. Our detachment (representing the RAF) were at the head behind Battle of Britain pilots ('the few') and two RAF bands.
We've been told that our marching and arms drill far excelled everyone else's even the Guards and that the only ones approaching our turnout and standard were the Royal Marines and this by an army officer!
The twenty Apprentices escorting the coffin were from the 104th Entry Guard of Honour which I'm not in any more because it changes over every term to an entry lower. If he'd died 4 months earlier I'd have been on it. There were also A/A's lining the route and their job was to rest on their rifles with heads bowed for long intervals and they were frozen stiff. At least I was comparatively warm, on the move, in the procession. Altogether over 350 Apprentices took part and although I say it myself we licked everyone else hands down. It was a great experience and honour and very moving, although the procession detachment at the head didn't even see the coffin because we came straight back onto the coaches. The coffin was half a mile behind us and the whole procession 1,300 yds. long, nearly a mile. The route-lining A/A's of course saw it all as it went past them and the coffin escort of 20 were with it all the time up to the river.
It must have been the most photographed event in history. All we heard from the silent thousands was the click of cameras and whirr of movie cameras. I must be on a thousand photos. I watched the TV recording last night at 9pm but the BBC cameras at least didn't show us but followed the coffin and escort party all the time. There were many foreign TV cameras and cinema cameras there also though. The RAF fly-past was dead on time and very impressive (seen recently on BBC footage, it was a formation of Lightning's) .
I was very tired and worn out but I had the satisfaction of knowing I'd done my bit and well. I shall be home next week-end all being well. Hope you are keeping well. Lots of Love Noel (This letter was found by Noel when clearing his Mum's effects in 1998 and it was written on the RAF crested airmail type lined paper which NAAFI used to sell in pads. A little side issue to the above).
Trevor Davies wrote: Some of us were in the band having spent a week in London in some wooded shacks in Eltham practicing for the event. The day itself was bloody cold if I remember right and we were stood on the side of nowhere in particular waiting for hours and hours. My brother Geoff was in the Ton Ones and had lost a member of that intake to the Customs and Excise in London. Luckily this guy turned up with a couple of bottles of grog which were put to good use. We had been told not to play anything joyful during the day but we left in a very happy state to the sounds of Down Town and other similar tunes.
Bob McCrum sent Noel the following photo of a rehearsal for the funeral. He says, the 102nd are the right-hand file (left as you look at photo, dark hat bands).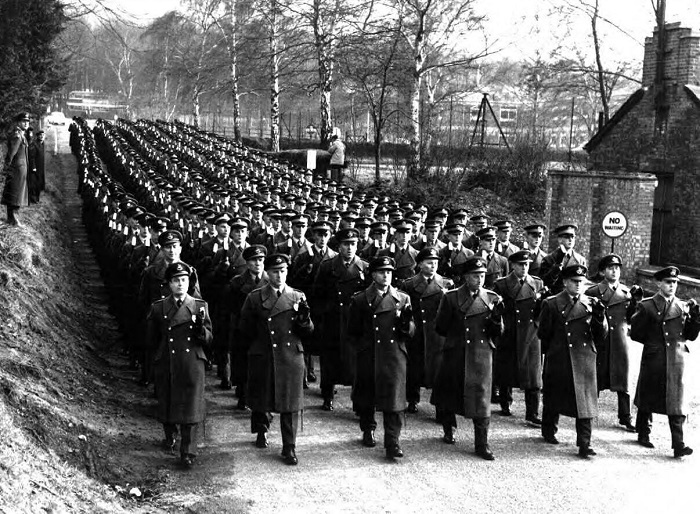 Image courtesy of 102nd Entry website
Permission for 83rd Entry RAF Halton Aircraft Apprentices to Wear White Gloves on Graduation Parade
Did you notice that on Churchill's Funeral Parade the RAF Halton Aircraft Apprentices are wearing White Gloves? And herein lies an interesting tale that has to be told. The evidence for this missive is contained in the archived files for the 83rd Entry.
The wearing of WHITE GLOVES on parade by RAF Halton Aircraft Apprentices was initiated by the 83rd Entry in 3 Wing when a request to higher authority was submitted for this to happen for our Graduation in March 1959.
Click on WHITE GLOVES to see all the correspondence.
Restored Battle of Britain Class Loco - Winston Churchill
I got to find out about this piece of information from my younger brother Roger, who after retiring from IBM, joined the Watercress Line as a part-time volunteer so he could help restore a steam train (a BR Standard Class Type 4MT, 4-6-0 No: 75079). Apparently he is now satisfying an urge that comes from his life long interest in steam trains.
Roger spends a lot of time getting covered in muck and soot down at the Watercress Line repair yard at Ropley in Hampshire (it's well worth a visit). On one trip I made to Ropley to see what he was getting up to, Roger kindly took me around the train sheds and workshops explaining as we went along, the various and fascinating projects they had underway. Some locos and rolling stock were nearing restoration completion (to full working condition) and others were looking like total wrecks, with bits and pieces of kit laying all over the place.
Roger's project - some Test Job!!
Roger fabricating and replacing new cladding
Anyway, in one shed we came across this pretty sad looking loco and it turned out to be the 4-6-2 Battle of Britain Class 'Winston Churchill' No: 34051. It had been brought to Ropley in 2011 from the National Railway Museum (NRM) at York to be cleaned-up and restored for static display again; to be returned to the NRM (by road) for display in January 2015, along with the Pullman Coach (restored by NRM at York ) and PMV Van (restored at Shilden, near Darlington) that took Churchill's family and the casket to Oxford for a private burial after the State Funeral.
No: 34051 Winston Churchill - Before! - note the fire damage! (Image courtesy of Mid Hants Railway Watercress Line)
No: 34051 in the shed and looking really sad!
The images below show the high standard of restoration work achieved at Ropley by the permanent staff, apprentices and volunteers. It may surprise you to learn that the new paintwork and detailing is primarily the work of one of Ropley's young apprentices (Ollie Collins) who has progressed to painting team leader.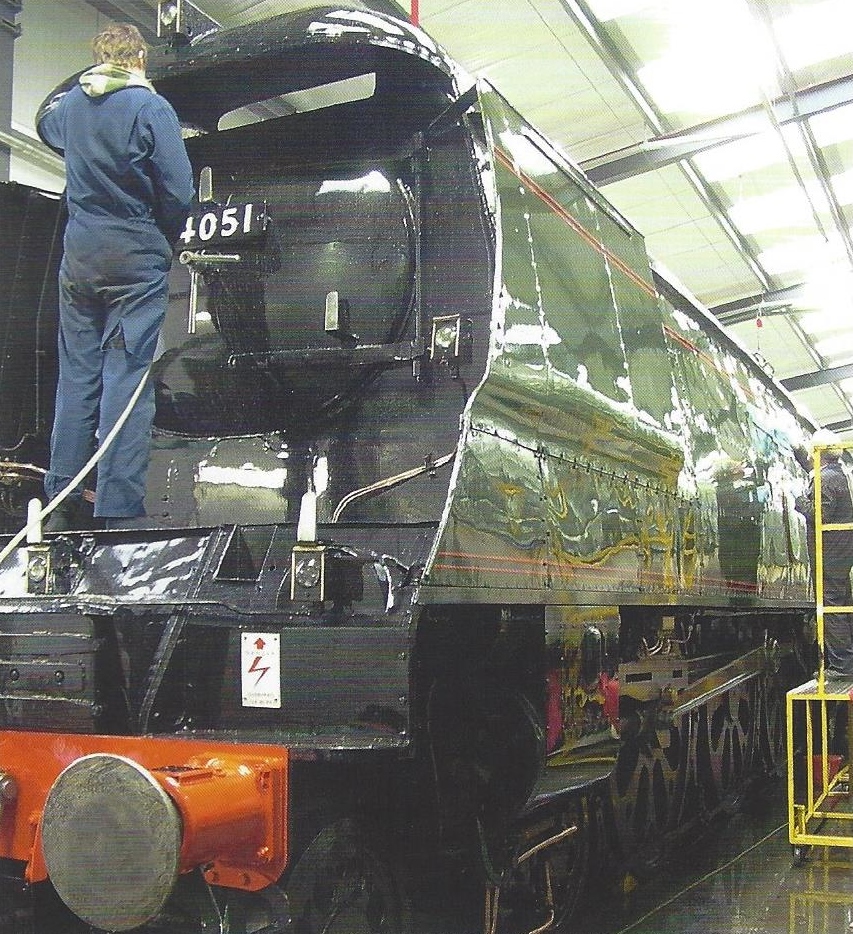 No: 34051 in the shed and looking a lot better after several repairs and a new paint job!
No: 34051 Winston Churchill - Nearing completion!! (Image courtesy of Mid Hants Railway Watercress Line)
Easy does it - Almost there!!! Ollie the painter is bottom right. (Image courtesy of Mid Hants Railway Watercress Line)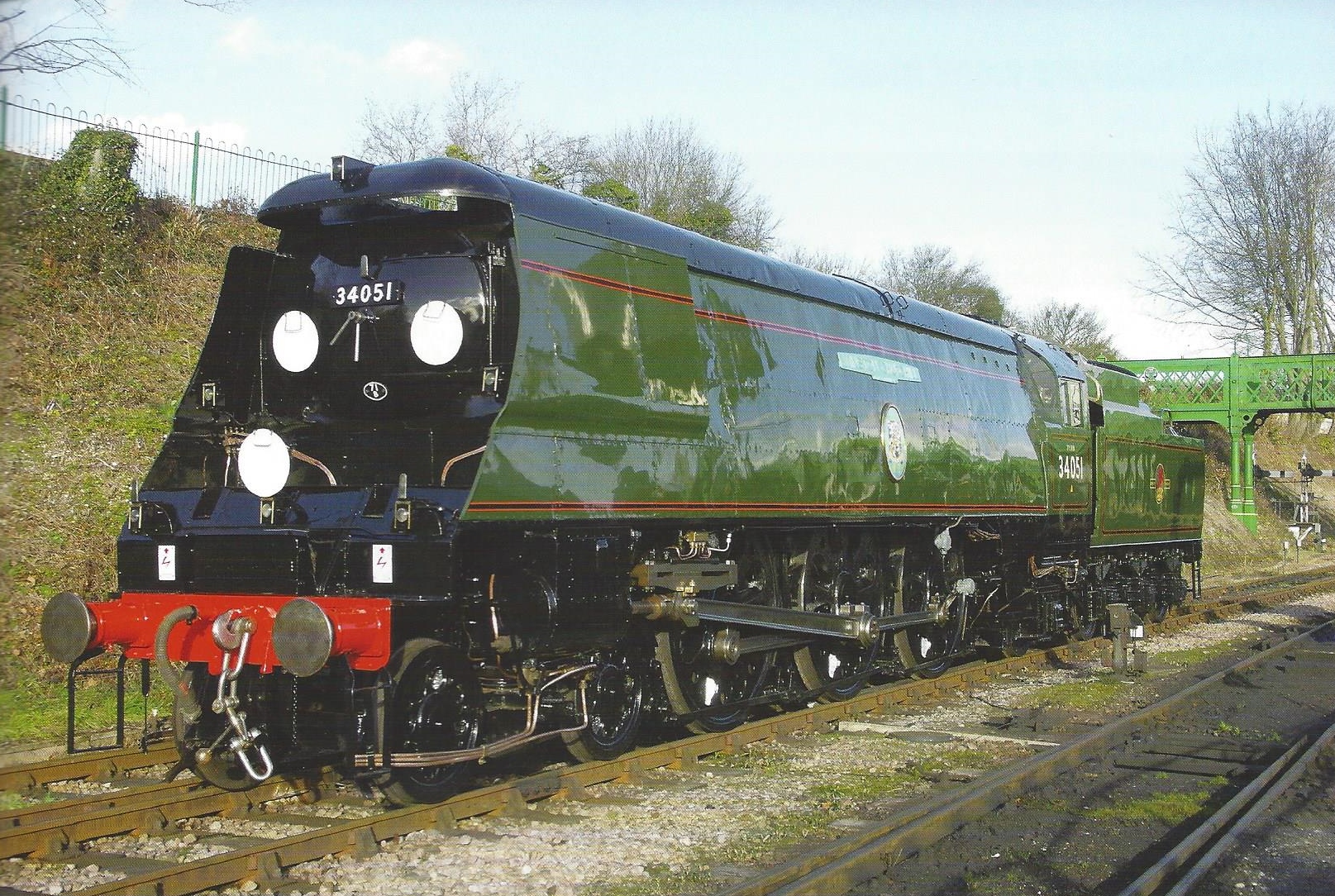 No: 34051 Winston Churchill - Job Done and ready for the trip down the line to Alresford for loading and transport by road to the NRM at York!! (Image courtesy of Mid Hants Railway Watercress Line)
Footnote: At Ropley they are restoring another Battle of Britain Class loco No: 34058 named Sir Frederick Pile! Is this just a coincidence?
The Halton Spirit
Marshall of the Royal Air Force Lord Portal was Chief of the Air Staff throughout most of the Second World War. In the RAF Journal for March 1945 he paid tribute to the 18,499 RAF Aircraft Apprentices who had completed their training in the first 25 years of the scheme and for the disproportionate contribution they had made to winning that war. At the time of writing the tribute, the RAF was over two million strong.
Our illustrious forerunners exerted huge influence not only on the technical side but in other branches and in the air. Many of them had gone on to flying duties earning 165 DFC's seven with a Bar and two with a second Bar. 25 had won DSO's, two with a Bar. Altogether ex. Aircraft Apprentices had collected 865 decorations, including a VC and 1773 were Mentioned in Dispatches. sadly 923 had given their lives on active service.
Click-on the image below to capture all the detail. This article was contributed by Johnny Walker (aka Jock the Peep's).
April Update for 2015 Reunion in Portsmouth
Without doubt the 2014 83rd Entry Reunion at Telford was recorded as a total success for Ivor and our Events Team; due mainly to the efficiency of Emma, the Hotel Events Organiser, and Mel and her excellent Hotel Team. Turning to 2015 the question is: can we achieve the same outstanding result?
Clearly, a different hotel in a different part of the country and working with different hotel staff is the first challenge for Ivor and our Events Team. So let's do a quick reality check; because it will not be the same set-up as Telford.
The Selected Venue
Thanks to Tony and Pam Miles, who live nearby in Waterlooville, for undertaking an initial survey of potential hotels in the Portsmouth / Southsea area that have the facilities to cater for and are happy to accommodate our Reunion.
The recommended venue is the Best Western, Royal Beach Hotel and on Wednesday 26th November 2014 by prior arrangement, Ivor and Margaret, Tony and Pam and Ivor's son Robert (the duty driver) arrived in Southsea to make a full assessment of the hotel, hosted by the Events Manager, Davina Jones. Hotel amenities, bedrooms and function rooms were inspected and then it was down to discussing menus / prices, etc. to get the right deal. An initial reaction from Davina was that perhaps we were asking for too good a deal compared to their normal rates for such a function.
However, Ivor having received quotes for the event declared that it's obvious the hotel have certainly met us most of the way. Bear in mind that Portsmouth and Southsea is nowadays a 'highly rated' and 'preferred' holiday destination in the UK so when requesting up to 20 rooms be pencilled-in there was some difficulty in doing this in late 2014, even though the bookings were for September 2015.
Anyway, Ivor agreed to move ahead and firm-up the details and they are as follows:-
Reunion Dinner: Saturday 19th September 2015
Venue: Best Western, The Royal Beach Hotel, St Helens Parade, Portsmouth, PO4 0RN
T: 023 9273 1281
Contacts: Davina Jones, Lisa or Will.
The hotel has allocated a function room 'at no extra charge' for our Friday night gathering (e.g. Parish Notices and Quiz Night) and the same room will be used for the Reunion Dinner.
The hotel has 45 parking places but the hotel has over a 100 rooms. Advice from Davina is to get a parking slot on arrival and then use public transport for local visits during the weekend. Parking is free on the roads around the hotel. This advice is given because when going out and about the visitor attraction car parking is expensive. So don't forget to bring your Senior Travel Cards.
SEE BELOW FOR MORE DETAILS ABOUT THE HOTEL PARKING ARRANGEMENTS.
Making your Booking and Charges
There are a few sea view rooms (double / twin) available which are £82.50 per room, per night with bed & breakfast. Then there are the standard rooms (double / twin) and these are £75.00 per room, per night with bed & breakfast. Rooms are not air-conditioned and there are no fans or fridges available.
All rooms must be booked via the contact names (see above), ideally via Davina. When booking, please state that you are "83rd Entry" in order to qualify for one of the rooms that have been reserved and expect to pay a non-refundable deposit of £10.00. The £10.00 deposit will be deducted from your bill on checkout. Hope that's clear.
You can book for whatever number of days you wish to stay at the hotel, but please give the hotel clear instructions about the length of your visit. Also, to ensure things run smoothly during the reunion planning phase and so Ivor can keep a check on progress, etc. please advise Ivor when you have booked your accommodation and the length of your stay.
Reunion Dinner charge is £30.00 per person. The dinner will comprise three courses, cheese board per table, glass of port for toasts, tea / coffee. Ivor will be advising those attending about the menu selections and request individual choices from about May 2015. By then everyone should have already booked their rooms.
Local Transport and Local Places of Interest
Tony has been working on a list of local places and attractions that are of interest and well worth a visit and also providing a list of public transport options for visiting the local area, rather than having to drive and find parking places. It is well worth visiting http://www.visitportsmouth.co.uk/ to check-out for yourself; the many visitor attractions that can be found in and around Portsmouth and Southsea.
Janet and I visited the hotel in March for a spot of lunch and to have a look around. Whilst there I took a particuar interest in gaining access to the hotel by car and the parking arrangements.
A summary of the public transport systems, Places of Interest and hotel parking arrangements (prepared by Tony and me) is available to assist with your travel arrangements to the Reunion Venue and for visiting many of the local area points of interest from just outside the hotel. Detals can be downloaded by clicking here.
Portsmouth was the 83rd Entry members place of choice for the 2015 Reunion gathering, so let's hope everyone will support this excellent choice of venue. As usual, any queries or problems then please contact Ivor on 01895 675813
John Burt