19th Reunion at the Lambert Arms, Aston Rowant
24th to 26th September 2010
Ivor was taking a sabbatical this year so the reunion weekend, which coincided with the 10th RAFHAAA Triennial at RAF Halton, was organised by Chips Woods.
Attending this year and coming in from the US was Pat O'Shea and from the UK, Chips and Ann Woods, Jim and Sylvia Waddington, Pat and Connie Butcher, David and Angela Taylor, Maurice and Pauline Raven, Tony and Pam Miles, Dave and Jean Smith, Arthur and Irene Wray, Stephan and Jane Chmielowski, John and Janet Burt and Mike and Mary Powell who made the long drive down from Perth in Scotland. Earlier in the year, Mike Tuckman said he would be coming over from Thailand to join us for the Reunion and Triennial. We were all looking forward to his arrival but sadly Mike passed away in early June, thus denying us all of his company.
Joining us for the Reunion Dinner on Saturday would be Ivor & Margaret John and Mac and Irene Payne accompanied by their son, Terry.
Our Reunion Dinner guest on Saturday was Gp. Capt. Bill Taylor (113th Entry).
Friday, 24th September 2010
As is customary, everyone gathered in the bar on Friday evening having checked in and sorted themselves out. Noticeably, the hotel was busy (a wedding was also taking place on Saturday!!) and there were several new staff since our last visit. Anyway, everyone soon got down to the business of catching up with each other over a drink and then, as stomachs dictated, we went into the hotel dining room for an evening meal. After dinner, Chips gave us the customary weekend briefing so that everyone knew what was going on and where they needed to be at given times.
Saturday, 25th September 2010
As normal everyone made it down to breakfast and 'stoked-up' for the day from a very nice breakfast table. Decisions and arrangements were made to spend the day either at the Halton Triennial (for most of the men) and a trip to Oxford for most of the ladies.
Triennial
Those of us who give the Triennials a miss these days paid a visit to the RAF Museum. However, it is important we report back on the Triennial for all of our members so Chips has provided the write-up and this can be found under Triennial 2010. Unfortunately, I didn't get any Triennial images to put into the report but there has been a good selection in The Haltonian magazine.
RAF Museum Visit
Janet and I took a spin down to the RAF Museum because I feel there is little left of what I remember from RAF Halton other than the facades of the various buildings. Taking the Triennial away from Airfields has for me removed the last tangible evidence of our time there in the mid 1950's. I'd just as soon remember the place in my own way. A visit to the RAF Museum at Hendon (or for that matter Cosford) is, in my opinion, always good value. To be greeted by the Spitfire and Hurricane at the front entrance is always the best start to a real nostalgia trip. These aircraft immediately stimulate memories of my youth and they also remind me that all the aircraft I worked on during my time in the RAF are now mostly in museums as well!
It costs nothing to get in to the museum but awaiting visitors are many aircraft collections and a wealth of fine exhibits in which to immerse one. Every time you visit there's always something new to discover.
Perhaps for me the Rotary Wing collection holds the most interest because of my continuing involvement in helicopters.
The icing on the cake is all the images that illustrate the history of RAF Rotorcraft that were donated to the Hendon Museum after the 2007 Triennial Rotorcraft Exhibition are now prominently displayed on a series of panels in the rotary wing hall. A very good feeling!!
Reunion Dinner
Meeting in the bar at 18.30 provided time to have a chat with everyone before we went into the dining room for dinner at 19.00. Unfortunately, we were unable to use the large function room for our dinner as we did the previous year. This was due to a wedding party taking place which had not previously been notified to Chips during the planning stage. So, because the new manager had not bothered to inform us of the situation we had to settle for being accommodated in the regular dining room. This was a bit of a tight fit and less exclusive because there were other guests eating at the hotel as well. This year our piper Johnny Walker was missing from our reunion so we entered the dining room with no accompaniment. Having seated ourselves we started with a moment of silence to remember our missing comrades. As is customary, grace was said and Dinner was then served (see menu below).
Having enjoyed the meal Chips called everyone to order over coffee and gave a short introduction prior to introducing our guest speaker, Bill Taylor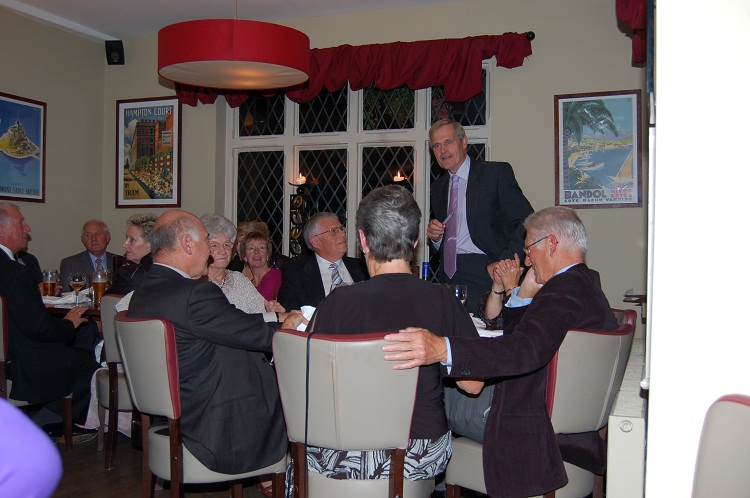 Bill provided us with an interesting insight into his time at Halton with the 113th Entry and his service career after graduation and subsequently. It's always good to hear from ex. Brats how their character and skills were developed and honed at Halton and the influence that has had in shaping their future lives. It was fascinating stuff which prompted questions and these were duly answered by Bill.
Thanks to Bill from everyone present for taking the time to join us and sharing his experiences.
Bill in expressive mode.
Following a short comfort break and an opportunity for 'top-ups', Ivor provided a brief update on entry administration matters and an update on information about 83rd Entry members. Ivor then handed over to Chips to give a short briefing on the recce trip he had made to the Telford area with Ann, Tony and Pam to assist with planning the 2011 Reunion.
At this point in the proceedings it was 'photo time'.
Oops! That initially took a bit of sorting out this year but fortunately we were ushered by a member of staff into a vacant room which was just about big enough to get our customary group photograph. To be truthful, the space was a too restricted for a good group photo but we got there in the end and the result can be seen below. After the photo shoot we adjourned to the bar for a much needed night cap!
Click on image to enlarge and see names list
Sunday, 26th September 2010
The ritual of the morning after brought us all together for breakfast and the customary entry meeting. As usual, the discussions focused on what to do about the 2011 Reunion. It was proposed for 2011 the Reunion should be based somewhere in Shropshire, such as Telford. This would mean that easy visits can be made to the National Arboretum to see the Halton Grove and National Memorial. Also, because of the close proximity, visits could easily be made to the Cold War Exhibition at the RAF Museum at Cosford and to Ironbridge where there are several industrial museums of significance.
The proposal was agreed because Shropshire is an ideal place for a starting point; with its very nice countryside and many available options for interesting places to visit. The agreed plan was for Chips, Ann, Pam and Tony to do a recce in Shropshire and report back on possible venues in the area that can accommodate our Reunion.
Before settling our bills and saying our goodbye's, Dave Smith reminded us that there had been several significant discrepancies in the invoices presented to reunion guests last year. This prompted everyone to carefully check their bills, particularly the bar bills!