21st Reunion at Wyboston Lakes Hotel, Huntingdon
20th to 23rd September 2012
Following a recce by Ivor & Margaret John, Jim and Sylvia Waddington and Janet and John Burt in early 2012, it was agreed that the Wyboston Lake Hotel and Conference Centre, near Bedford was ideally located and had first class facilities for us to hold our 21st Entry Reunion. It turned out to be an excellent choice in all respects.
Friday, 21st September
On the appointed reunion weekend the 83rd Family met up at Wyboston and it really was a case of 'wow', because another year had simply flown by.
A small group of us arrived late afternoon on Thursday and after checking-in and settling into our rooms we were soon catching up on news in the well-appointed and amply stocked bar / restaurant. We were delighted that Gwyneth and Mike Frost were able to make the journey to Wyboston from their new home in nearby Cambridge; in a 'purpose made for wheelchairs' taxi. Having missed our reunions for a couple of years due to health issues, it was really great to have Mike and Gwyneth back with us again.
Fred Findlay also joined us for the first time having settled back in the UK after spending many years living in France and other exotic places. Although 'flying solo' for the weekend, Fred quickly found out that everyone embraced him (as you do, regardless of how many years an entry member is absent) and this instantly made him feel at home in the Entry family.
Saturday, 22nd September
Following a splendid hearty breakfast it was member's choice as to what they wanted to do during the day. Around the local area and further out there were many options open for spending the day at museums, country houses and other places of interest.
Shuttleworth Collection Visit
Some of us decided to drive to nearby Biggleswade to spend the day visiting the Shuttleworth Collection and Bird of Prey Sanctuary. Both are at the same location and are definitely well worth a visit.
There is much to see in the Shuttleworth collection which is housed in several halls (hangars). Exhibits cover a wide range of aircraft, cars, tractors, etc. and included actual flying replicas of many early aeroplanes.
Of particular interest to 83rd Entry Engine Fitters should be the cutaway Bristol Centaurus engine that we spotted by chance; tucked away in a corner in one of the halls. Out of interest, we made our way over to the Centaurus and were delighted to discover we had a personal link with the engine.
Suggest you read the placard below to find out more………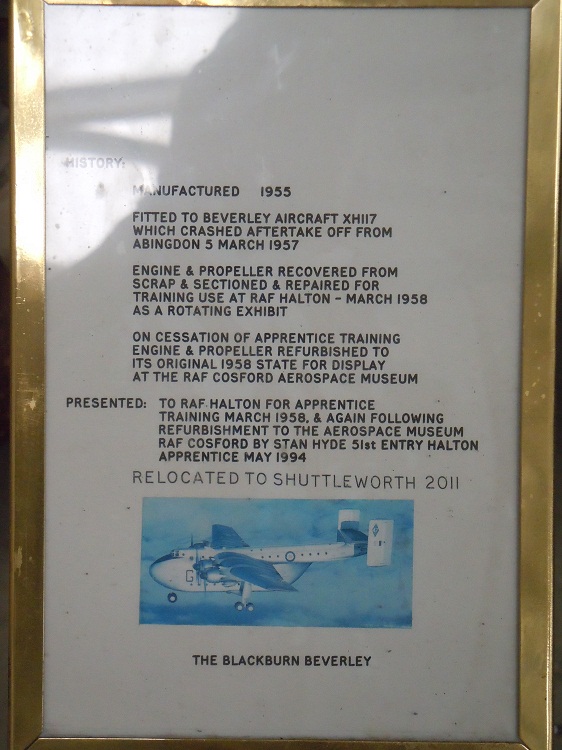 Memories of Sectioning the Centaurus Engine at Halton – Job Done
Another exhibit that got some attention was the Anson. Although not in the standard RAF Training Command livery we had previously encountered, the aircraft holds memories of air experience flights over the Blackpool area during Summer Camp in 1957. Also for Engine Fitters, the Cheetah engine was our introduction to learning all about radial power plants and working on them at RAF Halton.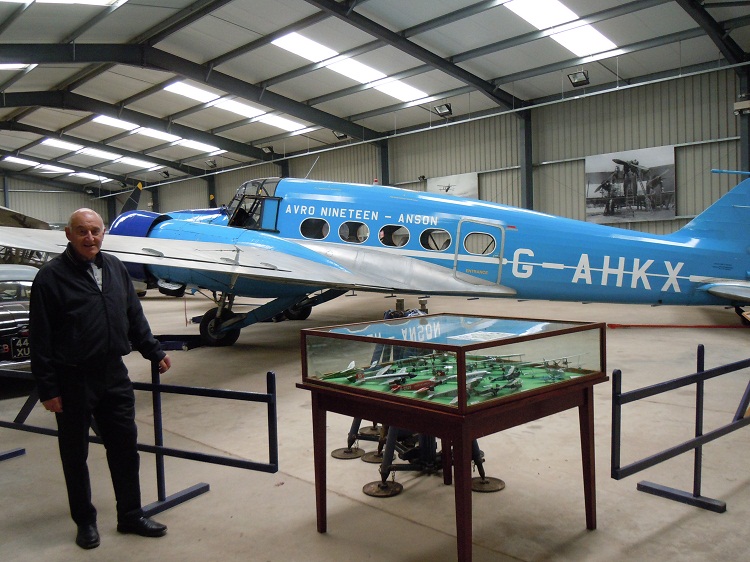 Ivor recalling air experience flights in the Anson at RAF Woodvale Summer Camp
Birds of Prey
It was Janet's idea that we should trek across the airfield to find the Birds of Prey Sanctuary because she has a great affinity to owls, in particular. Having spent a good time roaming around what turned out to be a very big sanctuary with many species of birds of prey, we found our way to the 'training area' where the handlers demonstrated with the birds. An opportunity arose to 'have a go' and the evidence is shown below.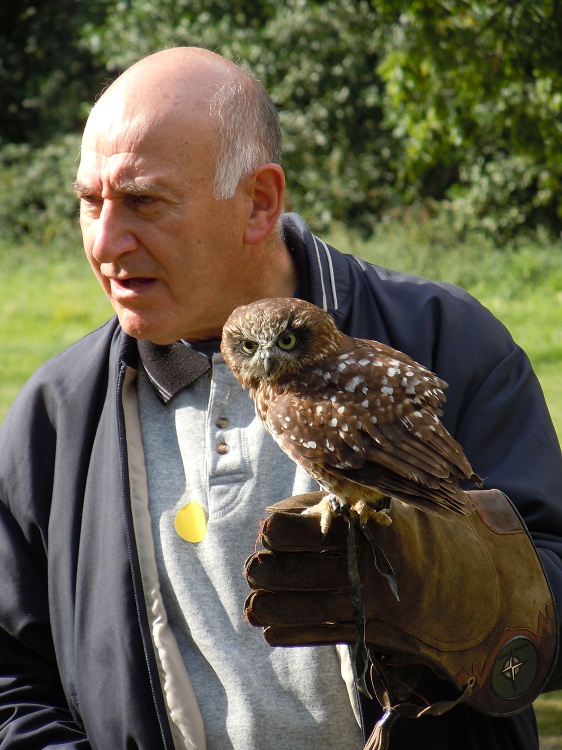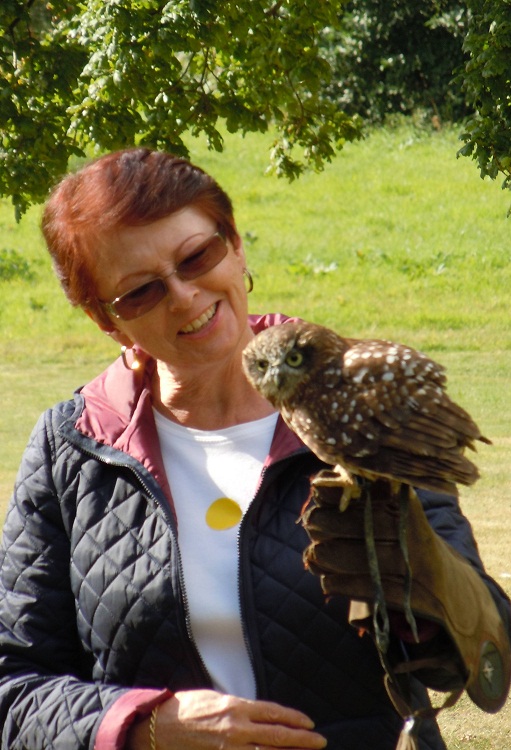 Brothers in Arms – the scowls say it all Janet enjoying an 'up close and personal' moment
Bletchley Park Visit
Other members decided to make the trip to Bletchley Park which is the famous location of the British Code Breakers during WW II.
Those who went to Bletchley Park told us that it is a very worthwhile venue to visit and it has a very interesting exhibition where the Enigma machines can be seen. It is also the location of one of the very first electronic computers – Colossus; used for the code breaking process.
It has to be noted that during the day the weather was good. That is until we were on our way back to the hotel and it absolutely poured down.
By the evening, the rest of the entry family had arrived at the hotel and word went round that we were meeting in a nearby pub across the road for dinner.
We overwhelmed the staff with our numbers but fortunately we arrived early enough in the evening and were fed pretty quickly and before the usual Friday rush – just hope we hadn't eaten all their supplies!
Quiz Night
Following our early dinner, we were back at the hotel for 20.30 (as instructed by Ivor) to take part in what looks like becoming a regular reunion event – a pub quiz.
By popular demand, last year's quizmaster, Tony Miles, was in charge, assisted by Ivor who had set the quiz.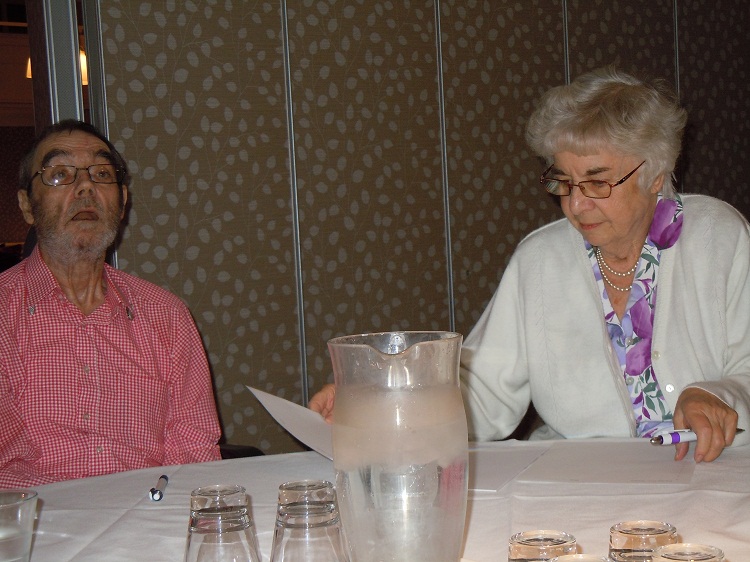 Mike and Gwyneth enjoying Quiz Night
As the quiz got underway, there were the usual groans as we tried to answer the questions and there was much laughter when we swopped papers to mark them at the end of the quiz.
The worthy winner was Dave (clever clogs) Taylor. Ivor presented him with his prize – Vouchers for Tea for Two to be chosen from a list of venues.
Ivor then surprised us all with a raffle with a difference. You place your hands on your heads for 'heads' or behind your back for 'tails'. On the flip of a coin you were asked to sit down if it landed on your choice of position.
Winner this time was Jane Chmielowski who was also presented with a prize of Tea for Two. These are great gifts for people who like to enjoy an English cream tea at interesting places.
Winner - Dave Taylor
Another Winner - Jane Chmielowski
Shortly after the quiz finished everyone made off to their rooms. We noticed that as time goes by – we don't stay up so late!!
Saturday, 22nd September
Another hearty (and noisy) breakfast with lots of chat and much deliberation about where each of us was going to spend the day. The weather forecast looked good for the various trips being planned and fortunately, it stayed that way.
We already knew there was to be an organised trip to IWM Duxford but, for those ladies (and gents) who had little interest in looking at aircraft all day, there were other places to visit including Bedford and Cambridge.
In particular, seven folks travelled in two cars to Hatfield House and, after several cries of 'are we there yet Mum?' it turned out to be a great place to visit. For one group (you know who you are!), the news of their day is they decided to leave Hatfield House to return home convinced they knew their way back to the hotel. However, after much time on the road and twice returning to Hatfield House (!) they gave up on their navigation and were fortunately just in time to catch the second group before they left. The wayward three were then very ably led back to Wyboston in convoy! Apparently the wayward three were able to have a good laugh about their exploits; even though one of them 'joked' that 'I'm not coming out with you two again'!
IWM Duxford Visit
By prior arrangement another group went off to the IWM at Duxford where Ivor had arranged with Pete Rushen (84th) to give us a private viewing of the exotic aeroplanes he looks after for a private collector. Pete gave us a full and well researched commentary throughout our visit and this was very much appreciated by all.
Click on image to enlarge and see names list
Once we left the 'Collection' it was 'open house' for the rest of our time at Duxford. So we just spent the rest of the day walking around the various hangers looking at many fantastic exhibits. Tiring but well worth it.
Reunion Dinner
In the evening our Reunion Dinner was great fun and full of chat and laughter. There were 37 of us sitting down to enjoy our various chosen meals. Click here to see the Menu.
Ivor led Grace with words by Johnny Walker who was unable to join us.
A toast was also proposed in memory of members no longer with us and for those unable to attend this year.
Thanks were proposed to Ivor once again for his great efforts in arranging this event.
After dinner, the usual 'organised' chaos took place when we lined up for the annual group photograph.
Click on image to enlarge and see names list
We must also pay tribute to the excellent staff who really did look after us so well. They were courteous and friendly and they always had a smile.
Maria, Kelly and Charlotte
Then it was time to relax some more, and have a drink and chat before retiring to our rooms for a good nights sleep after a long and most enjoyable day.
Sunday 23rd September
Yet another hearty breakfast (all going on a diet next week!) and time to pack up and say goodbye for another year.
September 2013 is time for the Triennial at Halton so most agreed that our next Reunion would be in that area.
Everyone said they had really enjoyed themselves at Wyboston Lakes and the various places visited in the area. Many thought it was one of our best Reunions yet – well of course after 21 years we must be getting it right!